The Portland Vase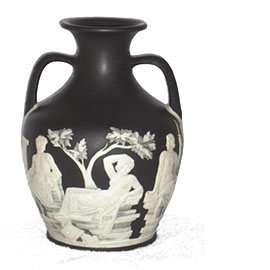 Originally known as the Barberini Vase, it was made by Roman glassblowers between 100 and 200 BC. Discovered in the 16th century stored in a sarcophagus in the Monte Del Grano, it eventually found its way into the Barberini collection through Pope Urban VIII who was a wealthy member of that family. It stayed in the Barberini family for over 200 years until it was sold in 1783 to James Byres, a Scottish dealer living in Italy, to satisfy a Barberini family member's gambling debts. Byres sold it to Sir William Hamilton, British Ambassador to Italy. Upon his return to London Hamilton sold the Vase to the Dowager Duchess of Portland. The Barberini Vase then became known as the Portland Vase.
Josiah Wedgwood borrowed the vase and the resulting Iconic Wedgwood Portland Vase, first successfully potted in 1790, is considered to be Josiah Wedgwood's greatest achievement in Jasperware. While the records have been lost, it is believed that a total of 30 Portland Vases were produced. Only 16 of those are known to exist today. The company has since manufactured Portland vases in sizes ranging from 1″ to 10 1/2″; and in various styles including Jasperware (either molded or turned, glazed or unglazed, both solid and dipped in every color), Basalt, Caneware, Rosso Antico, Stoneware, and Creamware .
The original glass Barberini vase, now permanently in the British Museum, is considered to be the jewel of Greco-Roman antiquities in the Museum.
Wedgwood-Whieldon Ware
In 1754, 24 year-old Josiah Wedgwood formed a partnership with Thomas Whieldon, the leading potter of his day. The partnership lasted until 1759. It was during this time period that Wedgwood began his experimentation with colored glazes and clays. Ceramic wares produced during this period are not marked. This earthenware pottery often features fruit and vegetable forms.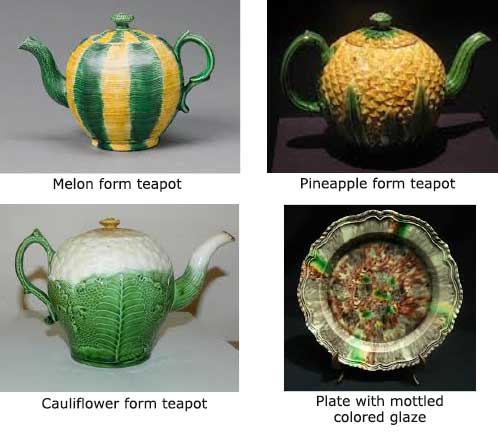 Queen's Ware
Queen's Ware is Wedgwood's name for its fine quality cream colored earthenware. Production began at the start of Wedgwood's first pottery in 1759 and continues to the present. This type of ware was widely available in the 18th century from a large number of potteries. Wedgwood perfected the quality and appearance of this type of ceramic, and in 1765 he delivered a tea set to Queen Charlotte. She was so pleased with the ware that she appointed him "Potter to Her Majesty" and allowed him to use the term "Queen's Ware". This type of Wedgwood ceramic is generally marked (typically with an incised mark in early wares and a printed mark in modern wares). A wide variety of glazes have been used over the years.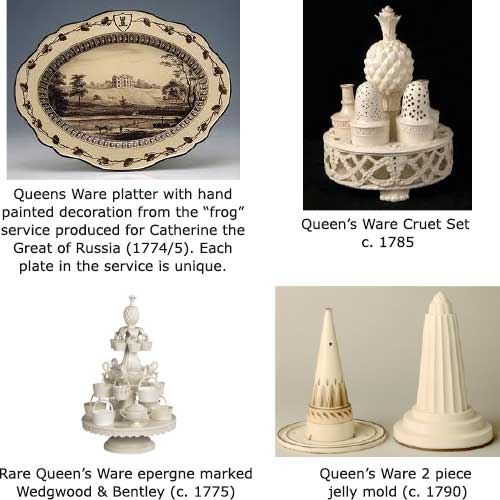 Porphyry, Agate or Variegated Ware
This type of Wedgwood ceramic ware imitates the look of polished stone. Production began in the earliest days (c. 1759) and has continued in small quantities from time to time until the present. There are two methods to achieve the stone like finish. Solid wares rely on a mixture of tinted clays. Surface agate was achieved by painting a variety of colored slips (liquid clay) on a cream ware body. Spraying or sponging techniques have also been used to achieve a stone like finish on modern wares. Wares imitating various stones including agate, granite, and marble have been produced. Like most other Wedgwood production since 1759, these wares are generally marked.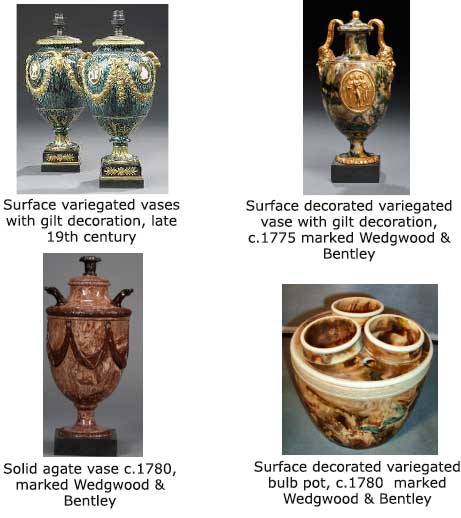 Rosso Antico (red ware)
Wedgwood termed his version of red stone ware Rosso Antico, literally "old red."  Wedgwood refined the common red ware, and started production as early as 1765 in small quantities. At the request of his partner Thomas Bentley, production resumed in 1776. Rosso Antico production continued until about 1900. After 1790 it is often combined with Black Basalt in decorative items, or covered with enamel decoration.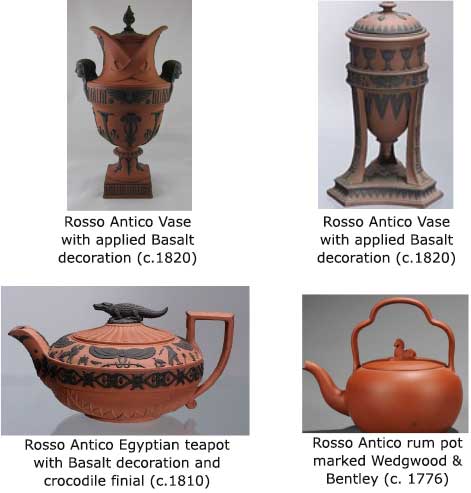 Black Basalt
Wedgwood Black Basalt is a fine textured black stoneware with a smooth surface. While Josiah Wedgwood did not invent this type of ware (sometimes called "Egyptian Black"), he perfected it. Production began in 1768, and continues to this day. Basalt is used to give the look of fine bronze. A range of products including vases, plaques, medallions, seals, and tea wares have been produced in Basalt.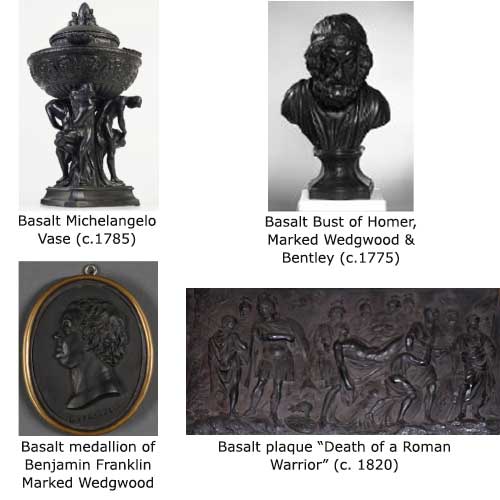 Caneware
Wedgwood Caneware is pale yellow fine textured stoneware. Josiah Wedgwood first produced trials of this type of ware in 1771. Regular production began in 1776, and continued until 1940. A range of products including tea wares, vases, small statues, and medallions have been produced. The addition of silica to Caneware made the material suitable for use in cookware. Caneware game pie dishes and conceits (decorative items imitating iced cakes) became popular as flour became hard to obtain due to the Napoleonic wars. Caneware pieces are marked as a rule.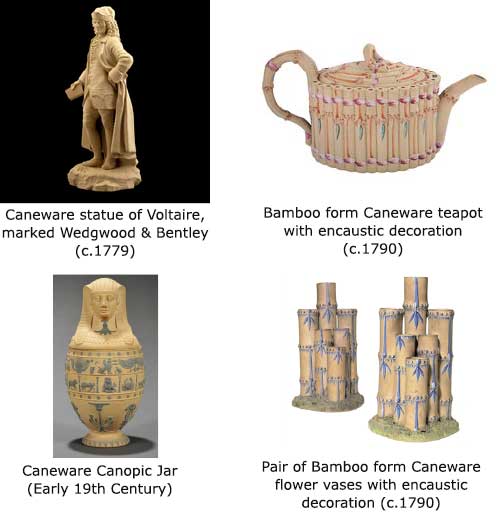 Jasper
Wedgwood Jasper is fine textured stoneware which can be stained a variety of colors using metal oxides. Considered to be Josiah Wedgwood's most important invention, it was first produced in 1774 after years of trials and experimentation. A range of products including vases, medallions, plaques and a variety of decorative items have been produced. Production of Jasper continues to this day. Jasper can be decorated with applied relief, can be engine turned, and can be polished. Wedgwood Jasper is almost always impressed marked. Ceramics using solid Jasper and surface dipped Jasper have been manufactured.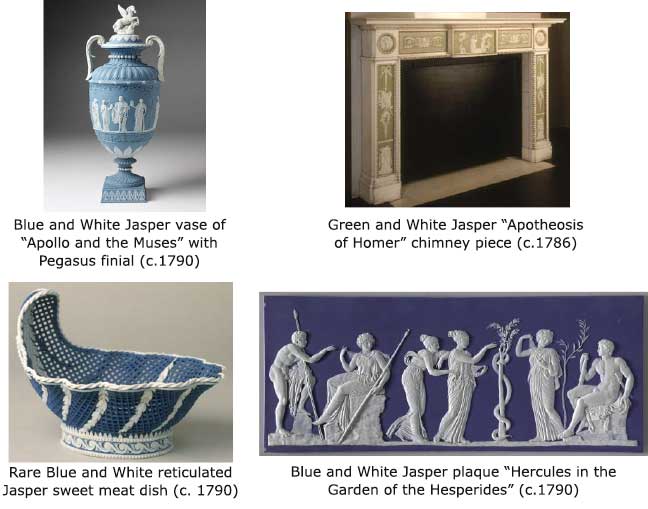 Pearl Ware
In order to achieve the white look of porcelain Wedgwood developed Pearl Ware. He modified the composition of Cream Ware to give it a whiter appearance, and most importantly developed a Pearl Ware glaze, which had the addition of cobalt to impart a blue tint. Experimentation began in 1774, and the ware was introduced into commercial production in 1779. Pearl Ware can be identified by the blue tint of the glaze, and is marked, often with the addition of an incised "P" or "Pearl."