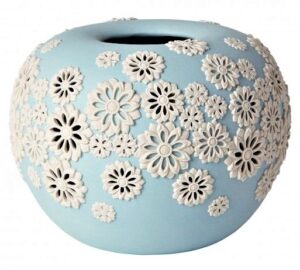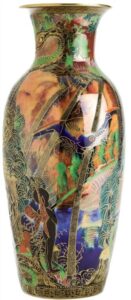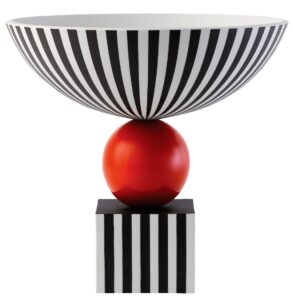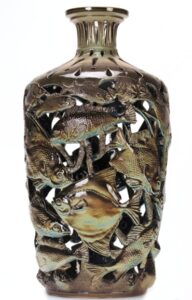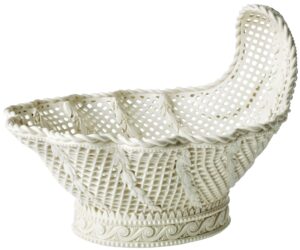 Keep in-the-know regarding Wedgwood-related events and other news-you-can-use. And if you are aware of current activity on the Wedgwood topic that you'd like to share and have posted here, please email wsbbarnett48@gmail.com.
Current Auctions & Results
Wedgwood Collection of Betty Issod Auction Highlights
The sale of Betty Issod's Wedgwood collection took place at Lion and Unicorn in Florida on February 19th. Consisting of 352 lots, it ranged from five-digit Fairyland Lustreware to $1 books, and took the auctioneers seven hours of patient bidding to complete. While many of the descriptions were either incomplete or incorrect, the time and effort, along with every lot a single-object-only (no multiples regardless of value), it seemed to have paid off. Betty, 98, of Wisconsin and Florida, was a Fairyland expert and dealer of Wedgwood in general. While this auction offered 53 pieces of spectacular Fairyland and ordinary lustres by Daisy Makeig-Jones, along with some important basalt pieces, it also included modern jasper trinkets, some of which realized outrageous prices. One such example, the 1976 Washington medallion pill box, usually found on eBay for $40, hammered at $500.
Below are some highlights. Note that the prices do not include the 25% buyer's premium, taxes and other fees.
-Fairyland Flame Vase: c1920; 11 1/2" h: $18,000
-Fairyland Cat & Mouse Lidded Vase: c1920; 11 1/4" h: $5,000
-Fairyland Spiderweb Brooch: c1920; 2" dia.: $2,500
-Basalt Dolphin Salt: 19th C; 5" h: $475
-Basalt Bacchus & Faun Statue: 19th C; 18" h: $3,000
-Brown Jasper Moon Flask: early 20th C; 5 1/2" h: $1,700
-Sky Plateau II by Glenys Barton: 1977; 9 3/4" dia.: $2,200
-Queen's Ware Toothpick Holder: (described as made 1890, but is 1930s); 2 1/4" h: $300
-Washington Jasper Medallion on Silver Box: 1976; 1 1/2" dia.: $500
-Bone China Shell Comport: c1894; 7 1/2" h: $550
-Earthenware Sunflower Oil Lamp: 19th C; 16" h: $1,300
-Six-pc Variation Geometric Designs Plates by Eduardo Paolozzi: 1979; 10 1/2" dia.: $2,000
To view the results of the entire sale, visit the Lion & Unicorn website.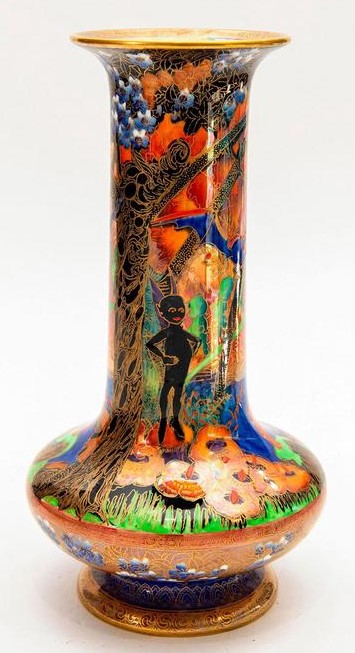 .
Upcoming Exhibitions & Reviews
None to show at the moment.
Antiques Shows
Upcoming Spring 2023 Antique Shows
March 17 & 18: Manchester Antiques Show, Manchester, CT; Congregational Church
March 18 & 19: Duxbury Spring Antiques Show, Duxbury, MA; High School
March 19: Malden Antiques Show & Sale, Malden, MA; Anthony's
March 19: Tolland Antiques Show, Tolland, CT; Middle School
March 25 & 26: Hingham Antiques Show & Sale, Hingham, MA; Middle School
March 26: Milford Antiques Show, Milford, NH; Hampshire Hill Athletic Club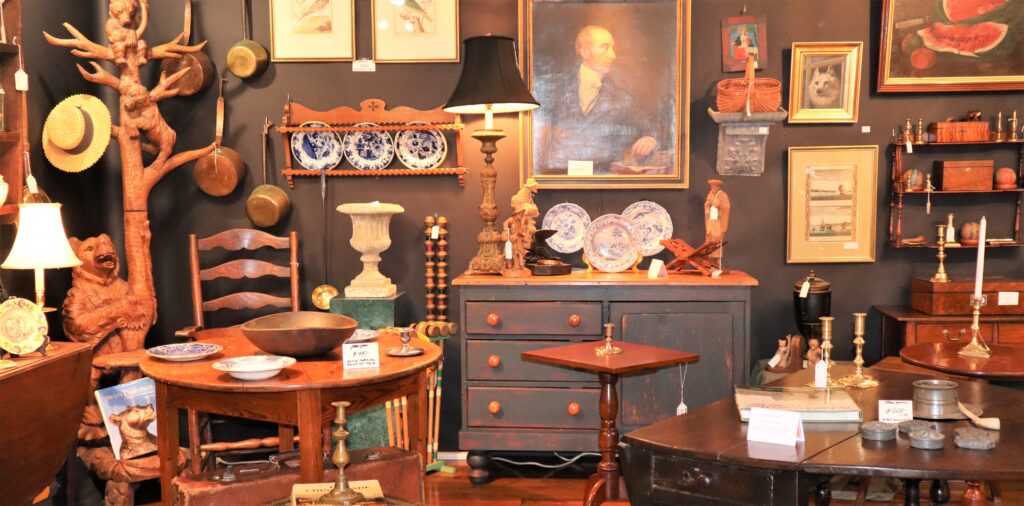 Current Publications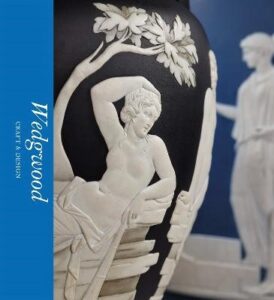 Wedgwood: Craft & Design
Looking back at key moments in Wedgwood's design history, this book, written by Catrin Jones, curator of the V&A Wedgwood Collection, celebrates the manufacturer's visual power and great design from its founding in 1759 to the present day. It highlights the internationally renowned V&A Wedgwood Collection containing around 80,000 objects. Published by Thames & Hudson, it will be available May 2023 via most book sources: $19.95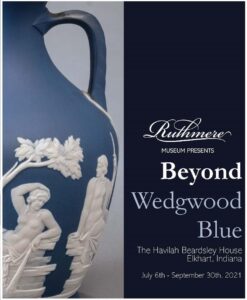 Beyond Wedgwood Blue
The Ruthmere Museum in Indiana held an exhibition, "Beyond Wedgwood Blue". Now available is a catalogue that features highlights of the exhibit and the history of Wedgwood. Visit: http://ruthmere.wildapricot.org/Exhibit-Catalogues
The Radical Potter: The Life and Times of Josiah Wedgwood
by Tristram Hunt
A scintillating biography of Josiah Wedgwood, the celebrated eighteenth-century potter, entrepreneur, and abolitionist. Purchase on Amazon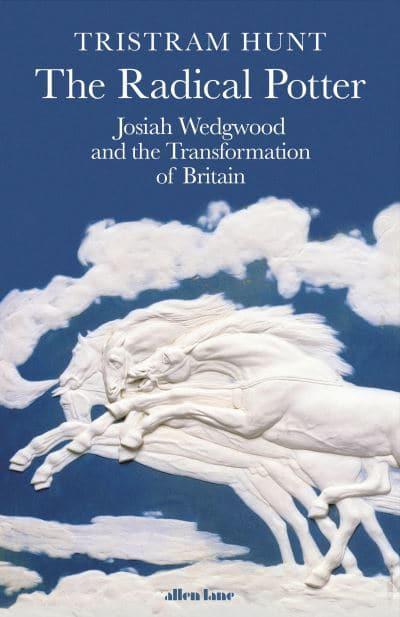 Newsworthy Bits & Bytes
The loss of a Wedgwood legend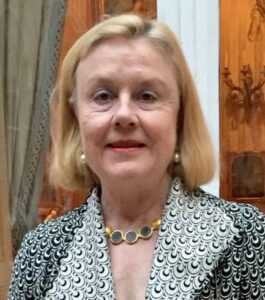 The Wedgwood Society of Boston is saddened to learn of the recent death of Diana Edwards, author and 18th century ceramics expert. Diana lectured on the subject of Wedgwood and British contemporaries worldwide.
You can read her full obituary from the Baltimore Sun here:
Spectacular V&A Wedgwood Addition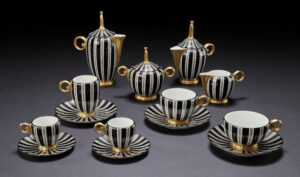 The V&A Wedgwood Museum has just made an exciting new acquisition of this glamorous 'Campanula' tea and coffee set designed by Paul Follot (1877-1941) for Wedgwood in 1923, accompanied by the design drawings. The set was previously owned by fashion designer Karl Lagerfeld who was the director of Chanel until his death in 2019 and was acquired from his estate. It is a rare and unusual example of Paul Follot's designs for Wedgwood, and a wonderful example of the Wedgwood company's tradition of working with innovative artists to create their designs.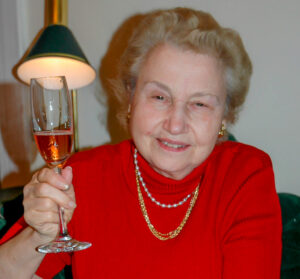 Remembering a friend: Dorothy-Lee Jones Ward
We are most saddened to learn of the death of Dorothy-Lee Jones Ward (January 11, 1927 – August 4, 2022), of Sebago Lake, Maine, and Wellesley, Mass. A WSB past president as well as that of WIS, she was a most gracious lady and Wedgwood legend, serving as mentor to many of us. Her love and expertise was also in the field of glass, as an antiques dealer, and later the founder of the Jones Museum of Glass and Ceramics in Maine. You may find the complete obituary here. A memorial service will be held at Doherty's Funeral Home, 477 Washington St., Wellesley, Mass., on Thursday, September 22, 2022 at 1 pm.
Members' Choices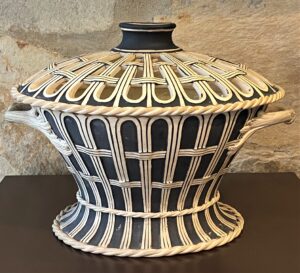 Submitted by Peggy Kerner
I love this piece in my collection because it is so unusual. It is called a "Bouquetière" which is a fancy word from the French for flower pot. They are usually oval or round in shape, have a pierced lid to hold flower stems or branches, and were made in the late 18th to early 19th century. Mine is made of white terracotta biscuit covered with matte black slip and glazed inside to prevent staining. It is 8 1/2 inches high and 11 inches wide and dates to 1785. It was originally in the Oxborrow collection, and a similar example is in the Beeson Collection at the Birmingham Museum of Art.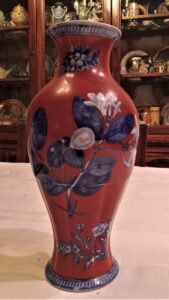 Submitted by Ron Frazier

Spotted by my son Forrest many years ago and knowing it was Wedgwood, he scooped the piece up. This Imari (Japanese) style 9" Vase is in a Pearl Ware body and has a production date-code of 1886. Imari style is based largely on two colors, a dark underglaze blue and a dark red, and is a crowded design. Along with other patterns of stylized floral shapes, the Imari range became popular in England during the early 19th Century and appears in various renditions (usually described as Japan Patterns) on Wedgwood's Queen's Ware, bone china, and whiteware, as well as pearlware. Japanese designs became popular after the international exhibitions in London in 1862 and Paris in 1889.